Welcome to Gelmap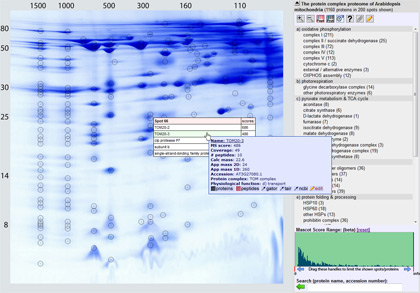 Gelmap is a universal tool for spot visualization on a gel image. Therefore you can upload the gel image and the coordinates / information spreadsheet.
This site is under continuous development.
Why GelMap?
Available on all operating systems
Very easy to use, no installation required
Spot data linked to several online proteome databases
Annotation of all proteins identified within individual gel spots
Filters show different sets of data
Functional annotation of proteins
Interactive search for title, id or accession number
Characteristics for each spot appear in a handy tooltip
Supplied peptide information is available from the tooltip
Arabidopsis projects can be integrated into the GATOR search engine.
Getting started
If you want to start your own GelMap project, please feel free to read the documentation, watch the YouTube video(outdated) or contact Michael Senkler for advice / help concerning all GelMap related questions.
ComplexomeMap: Interactive heatmaps for complexome profiling

New: 'Complexome profiling' allows systematic analyses of protein-protein interactions in cellular or subcellular fractions. Please visit our ComplexomeMap portal at ComplexomeMap.de
Plant Proteomics Division / Creators of GelMap
GelMap was programmed by Michael Senkler with a lot of subject-specific guidance from Christina Rode and Hans-Peter Braun. For reference see: list of related publications

The group of Prof. Dr. Hans-Peter Braun investigates plant organelles with a special focus on respiratory chain protein complexes. Additionally, we analyze major aspects of plant proteomics including seed filling processes and plant pathogen interactions.
More information can be found here
Featured Projects from the group
Cyclamen persicum: Christina Rode, Hans-Peter Braun, Traud Winkelmann.
Arabidopsis thaliana (mitochondria): Jennifer Klodmann, Hans-Peter Braun
Arabidopsis thaliana (Complex I, subcomplexes): Jennifer Klodmann, Hans-Peter Braun.
Arabidopsis thaliana (Complex I, 3D gel): Katrin Peters, Hans-Peter Braun.
Arabidopsis thaliana (chloroplasts): Christof Behrens, Holger Eubel, Hans-Peter Braun.
Medicago truncatula: Frank Colditz, Hans-Peter Braun.
Confidentiality
We encourage you not to use this tool for any valuable/secret/unpublished data. You can protect your map with a password which should work fine. But the database is and always will be plain text (no encryption) and we cannot assure the safety of your files. However, we will strive to do our best..